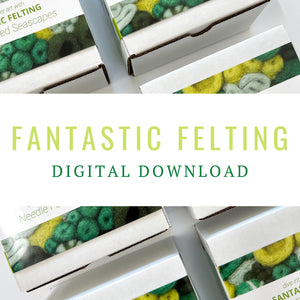 PLEASE NOTE: The link to video tutorials comes with the purchase of The Fantastic Felting Kit. No need to purchase both! 
DIGITAL DOWNLOAD - FANTASTIC FELTING KIT
Already have needle felting supplies and just want to learn? Using the same techniques that I use in my original art, you will learn how I create felted barnacles, sea urchins, corals, and different textures through video tutorials.
Level: Beginner/Intermediate
Includes:
- PDF Digital Download that gives you the link and password to access the exclusive webpage
- Webpage includes 8 videos: Intro/Materials, Designing your Piece, Barnacles, Flat Felting, Sea Urchins, Brain Corals, Tube Corals, and Finishing your Piece.
- Approx. 30 minutes total of video instruction
- Webpage also includes various extra tips and tricks as well as an overview of your materials.
Recommended Materials to Have:
- Felting Needles, Foam Felting Cube, Felt Fabric, Wool Roving, Hot Glue, Scissors, Pen
Please note:
- This is not a finished piece of art or physical product - this is a digital download!